Edit a course
Edit track and fence positions
You need a subscription to save your work but you can try all the editing tools free
Step by Step.
Open the Toolkit on your desktop, tablet or smartphone. As a beginner you will find desktop or laptop easier. On smartphone, rotate your screen to landscape
Select the event and open the course you wish to edit
Tap the Edit icon
Use the icons on the right to add, delete, move markers (jumps, compulsory flags or waypoints), drag or erase track, renumber jumps automatically
After the first edit press Save to make sure you are authorised to make edits
Continue editing
Tap Arrow icons to Undo/Redo last command
Use the vertical slider to smooth the track display
Save to finish
Video Tutorial
Edit fence properties, photos etc
Change Course Details and Thumbnail
Make riders and eventing fans want to click on your courses in the library by choosing an attractive thumbnail. When you publish a course, the default thumbnail is the final fence but you can change it to any fence photo or upload your event logo.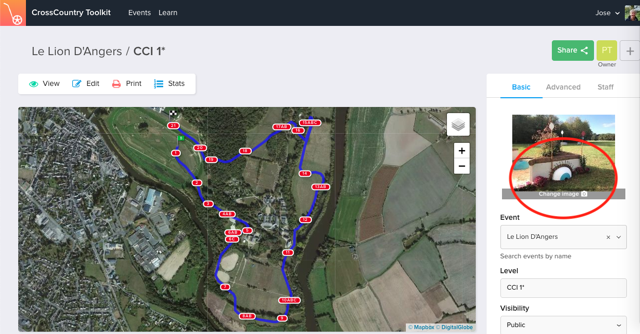 Step by Step.
Open the Toolkit on your desktop, tablet or smartphone.
Alternatively, when you upload a course you will be prompted to "Open in Toolkit"
Tap Change image
Select the new thumbnail from the gallery
Change any other values such as optimum time. The Advanced tab has more options
If you created the course some time ago you, change the date under the Advanced Tab as this is displayed in the library and could be confusing to competitors
Set visibility to Public
Tap Save to finish
Video Tutorial
Thank you to Badminton Horse Trials for the Mitsubishi Motors Cup course used in these videos.