Automatic optimum time calculation
If you do not enter an optimum time, the Toolkit calculates it for you, based on measured distance and speed. Upgrade to a Toolkit subscription for extra time calculations "on the go". The Toolkit Stats also give you time at each fence based on the same calculations. We will be adding in calculations for Speed Faults which are used in the USA
Step by Step in the Toolkit
You can do this with a free account
Record your course and upload it
Open the course in the Toolkit on your phone or on your desktop
Search for the event and open the course
Tap the stats button
If you have not entered an official optimum time, then the optimum time displayed is based on measured length and speed. Time allowed is always twice the optimum time

Zoom in to see the detail

Change the speed and see what happens
When you add in the official optimum time, the toolkit calculates the official distance for your print map. You can override this if you want to round it up or down e.g. from 2308 to 2310. All time and distance stats are recalculated in the stats section.
On this display minimum time has been added manually - via the Advanced Tab.
Handy extra time calculations in CrossCountry App
Upgrade to a Toolkit subscription
Login on the CrossCountry App. This enables time and efforts counters to be displayed as you record a course
Make sure you enter the correct speed because the optimum time is based on this
Start a recording
You will see a running count of time and efforts as well as length at the bottom of the screen.
When you have finished recording, scroll down in the Details screen to see the measured optimim time which is calculated from the measured length and speed. This is a CrossCountry 1 feature, coming soon in CrossCountry 2
Minimum Time and Speed Faults
We do not calculate the minimum time automatically as it varies from country to country. Set it in the Advanced Tab. We will be adding in other calculations for Speed Faults as used in the USA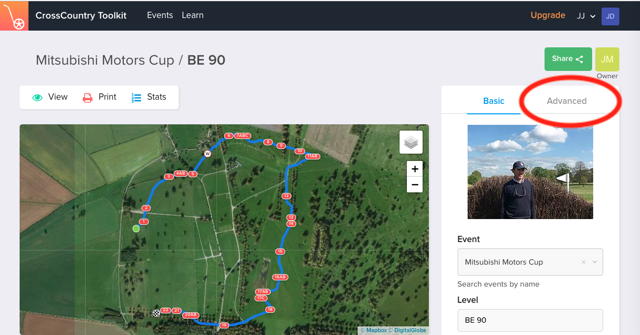 To print Speed Faults time on your maps, add it into the description box which allows free text