Frequently Asked Questions
First Timers
What are Push Notifications?When I install the app it asks for permission to use these.
Push notifications are a standard Apple way of sending messages and alerts. We use them to alert you if your phone is locked and your battery is running low. This is in case you have forgotten you have CrossCountry running or, if you are still walking the course, to quickly finish it.
Recording a Course
What is mpm?
mpm is meters per minute.
Can I erase if I go wrong?
Yes. This video shows how
Can I add in a photo I took outside the app?
Yes. Here's how
What if my battery goes flat while I am recording a course?
Don't worry. Recharge your battery and when you call up CrossCountry again your course will be paused and will be coloured red in the list. Just unpause it and carry on. We featured a battery life extender in our newsletter which recharges your battery as you keep walking.
What if I have to stop recording half way round, or I want to add a photo to a different course while I am still recording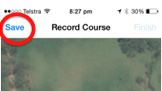 Just click the save button and your course will be saved in red to your courses list. You can then resume it anytime, or open up another course to view or edit it. To resume, just click the course name to reopen it.
Some events have unreliable mobile or internet reception. Does it still work?

Yes it will still create a track but you won't see the satellite map backdrop until you get back into mobile or WiFi range. This means that if you go overseas you won't have to incur expensive data roaming costs. If you are out of mobile phone range you may notice it takes longer to register 5m accuracy at the start because the iPhone enhances its GPS with mobile phone towers. Working independently of mobile or internet is big plus for guided course walks because spectators can download them in advance and not worry about internet coverage or frustrating slow response.

What happens if I get a phone call or sms while recording a course?

The app keeps tracking. You can make or receive calls and text messages, go on Facebook, check the weather....

Can I add photos etc on a second course walk?

Yes, when looking at a jump just click on the Edit button. You can also delete them.

Does it work in the UK?

Yes it does. It works anywhere in the world.

My course has more wiggles than other riders. Why is that?

Sometimes the satellites are not in such a good position and the speed at which you walk can make a difference. If you stride out purposefully you will get a smoother track. Measuring with a golf buggy or quad bike gives an even smoother track. But if your track has wiggles or measures longer than the official length don't worry. This will not impact the accuracy of your final minute markers because the app works these out by dividing the distance you measure by the optimum time. If your iPhone cannot get a sufficiently good GPS "fix" to record accurately it will tell you so and refuse to proceed.
Optimum Time

What if I don't know the optimimum time?

You don't have to enter the optimum time. As you record the app will tell you where your provisional minute markers are based on what speed (mpm is meters per minute) you entered. Update the optimum time when you know it.

Minute Markers and The Beep

How does the app calculate minute markers?

Provisional Minute Markers are placed as you walk the course. Every 520m for example for a novice/one star track. Your iPhone will beep to alert you. However, when you finish the course, CrossCountry calculates the exact position of minute markers based on the total length you have measured and the optimum time. If you have not entered optimum time, it leaves them as they are.

If you are riding a 3000m course at 500mpm your optimum time will be 6 minutes, CrossCountry will place the minute markers every 500m along the track but then at the end if you have measured the course at 3,060, it will reposition the markers to every 510m because you have told it that you still have to ride the course in 6 minutes.

Any tips on minute markers?

Some riders set their optimum time to 10 seconds less (ie. 5 minutes 10 seconds when the optimum time is 5 minutes 20 seconds) to give them some lee-way. Read our Riding to Time tips to help you practise getting the right pace.

Tap the blue location arrow to turn it red. The blue tracking sphere will appear showing your location. As the sphere gets within 15m of a minute marker, the app beeps - whether or not your phone is locked and in your pocket! You can then check the map to find the precise minute marker location and familarise yourself with landmarks. This is really helpful when you are walking the course a second time, if a fellow rider has emailed you the course or you have downloaded it from our library. This feature was created for the Australian Olympic Team and used in London.

Remember to turn off the location awareness to save your battery when you no longer need it, by tapping the red arrow.

Why don't I hear the beep?
Are you low on battery? The iPhone stops making sounds if it is very low.
Check the following: You have turned on the location awareness arrow (bottom left) and it is red. You are seeing the blue sphere and it is tracking your location correctly.
Your sound is turned up and the phone is not muted
Does the phone vibrate when you get to a minute marker? (It should vibrate and beep. You will probably only notice it vibrate if it is in your hand)
Try rebooting your iPhone
Make sure you are on the latest release of both IOS and CrossCountry App
If all these fail, contact us
Is CrossCountry App useful if I don't wear a watch?

Absolutely! CrossCountry helps lower level riders and children plan your riding strategy so you ride more smoothly, calmly and avoid missed jumps or going the wrong way. Parents say it helps their children feel less anxious
Photos
Any tips for getting better photos in poor light?
Before taking the photo tap the screen. A yellow focus box will appear and for a second or two the screen will brighten. Take the photo and you get a much better pic. Here are more photo tips
<!>
Can I extract the photos?
Yes, please contact us.

Course Walking Tips

Do you have any tips for effective course walking?

Jess Cocks is one of our most experienced users. Read her tips for using CrossCountry
There is an excellent summary from wikipedia of things to think about when walking the course. Caroline Moore, the British Eventing National U 18 Coach and Junior Team Coach has these top course walking tips.
What about riding to time?
Read our "Ride to Time with CrossCountry App" and we have a new Riding to Time page with discussion from users
Anything else?
Yes. More on how to get the most out of CrossCountry App from Sable Giesler of Eventing Connect and British National Coach Yogi Breisner's advice on his course walk for the Mitsubishi Motors Grassroots Championship at Badminton is universally valuable to any rider on any course. Find out how to "tune up" your horse so he is ready to do the job at a water jump. 
Android, Windows phones and PC
Is CrossCountry App in the Google Playstore?
Not yet. CrossCountry App is designed and programmed as a "native" iOS app and uses the unique Apple user interface.
What are your plans for Android and Windows phones?
Android will be available in 2019.There are many different variations and versions of Android so we will announce which models of phone are supported.Windows phone users will continue to be able to view courses online, that are published in our library or by creating a free toolkit account at accounts.crosscountryapp.com , CrossCountry App users will be able to share their courses privately with you.
Is there a workaround now?
As a practical solution if you want to record courses, ask around to see if a friend or family member has an old iPhone you could use. So many people just put their old one in a drawer when they upgrade. We support iPhone 4S, 5, 6 and 7 running iOS 8 and 9 and 10. The iPhone does not need to have to have a SIM card in it (though without a SIM you will not see the satellite map background until you are on WiFi). If you want to view courses someone else has recorded, they can publish them in our library (scroll down for how to publish) and you can then view them free.
Can I view courses on my Android or PC?
Yes, where you see the View button in the library To view a purchased course on Android or PC contact us.
What about my MacBook?
Because the MacBook has a different operating system to the iPhone, the CrossCountry App does not run on MacBook. You view courses on your MacBook in exactly the same way as on Android or a PC.

Course Library

How do I search for courses?

The search is "free format" so you can type in the event name, level, course designer, country... Find out more

How do I publish a course on your library?

Click the Publish button . Don't be shy, others will be very grateful and you could win a prize.

Viewing courses online

I noticed a little blue speech bubble. What is that?

You can now post comments about a course online.Share your experiences, give tips or get valuable advice from other riders. Find out more

App Store and iTunes

How do I buy CrossCountry App and what does it cost?

This video explains how to do it. You will see the price in your local currency on the App Store

I have an iPad too. Can I put the app on that?

Yes. You do not need to buy it again provided you use the same Apple Id. Just go to the app store, search for crosscountry or click here. You see a cloud icon instead of the price (because Apple know you already bought it). Click the cloud to download the app free. Use Airdrop to transfer your courses across from your iPhone.

I got a new phone. What now?

If you backup your old iPhone and restore it, CrossCountry App and all your courses will be put on your new phone. You do not need to buy it again. If you are not restoring from your old phone, go to the app store using the same Apple Id, search for crosscountry or click here and download it. You see a cloud icon instead of the price (because Apple know you already bought it). Click the cloud to download the app free. Use Airdrop or email to transfer your courses across from your iPhone.

Can I gift someone the app for Christmas?

Yes. Here's how And you can send a lovely e-card too. Of course you can gift an app any time but only to someone who uses the same iTunes store (ie. is in the same country).

Products and devices

What is the difference between CrossCountry Lite and CrossCountry?

With CrossCountry Lite you can view courses and guided course walks created in CrossCountry. Download these from our courses page, event websites or receive them privately by email. With CrossCountry you can record a course, get minute markers or add photos etc to an existing course and create a virtual guided course. In a nutshell, CrossCountry is for riders, officials and coaches. Lite is ideal for friends, family, owners and spectators.

Do you have a summary of the differences between CrossCountry App, Lite and viewing online?

Yes. Click here

I am a course designer. How can I create paper maps from CrossCountry?

There is an add-on called CourseDesigner which is great for Technical Delegates too. It is a huge time saver.

Can I record courses on an iPad?

Yes CrossCountry will record courses on iPad 3G or 4G i.e. with GPS. While the iPad is a bit bigger to carry around,it does take superior videos. Just make sure you don't put your finger over the camera when taking photos.

What about iPod Touch or iPad Wi-Fi?

Yes, to review and personalise courses (add photos and comments) but you cannot create a course because iPod touch and iPad Wi-Fi don't have GPS. You can add a plug-in GPS though. One that has tested our CrossCountry and declared it compatible is Bad Elf

What versions of iOS do you support?

We support the latest release ie. currently iO9 and the two previous ones. However, if you cannot upgrade your iOS you don't need to upgrade your CrossCountry App.

Updates and Technical

A lot of questions we are asked are general iPhone or iPad ones rather than specifically about CrossCountry App. We find this iPhone FAQ very good if you can cope with the advertisements!.

If you are experiencing any problems always make sure you are on the latest release of the iOS operating system and CrossCountry App

To check CrossCountry click the i button bottom right on the courses list

To check iOS release

1) Open the Settings app
2) Tap 'General'
3) Tap 'About'
4) Scroll down and look for 'Version'




How do I know when a new software release is available?

When you open CrossCountry App it checks if there is a newer release and tells you. Also you will see a number appear on the App Store logo on your phone.  If you are registered for our newsletter, we will send you an email

How do I upgrade?

Click on the App Store icon on your iPhone or iPad home screen

What do release numbers mean?

Releases have numbers like 1.6.2 where 1. is the major release and to go to 2.x would be something very big, typically involving a change to file structure which would mean that users on a previous release would not be able to open courses. x.6 is a minor release which means new features. x.x.2 is a bug fixes release. So no new features.

Virtual Guided Course Walks

How do I watch a virtual guided course walk?

How do I create a virtual guided course walk?

It's very easy. Here's how

Can I arrange or sponsor a virtual guided course walk?

Yes, please contact us.

Buying Courses

Click on the Buy button on the library to go to the Gumroad secure payment system. Enter your credit card details or pay with PayPal. If you create an account on gumroad you won't have to enter your credit card details each time. Once you have paid, you will be sent the course.

Who gets the money?

We pay the coach, less an admin fee

I purchased a guided course walk by a coach in Australia and there is an extra charge on my credit card. Why?

The payment is processed in US Dollars by the secure e-commerce company and your credit card company my charge a few cents for the International transaction. More here

Sharing courses

Can I share courses with my friends?

Yes, privately by email to friends who have CrossCountry App or CrossCountry Lite

If you have a fairly recent iPhone (5 or later) or iPad you can use Airdrop. You may need to enable Airddrop from the Control Centre. Airdrop allows you to share courses, photos, videos with someone nearby with an Apple device. Find out more

Can I share with people who don't have CrossCountry?

Yes, by sending them to us to publish in our library. We will make them viewable on all smartphones or PCs. Just click the Publish button

Publishing courses

Can I add a jump in that I missed?

You can do this with the new software toolkit. Create and acount at accounts.crosscountryapp.com and upgrade to a paid subscription which will enable you to move the track, add, move and delete fences and print automated maps.

Backing up & restoring courses

What is the best way to keep my courses safe?

Your courses are automaticlly backed up in iTunes when you synch your phone or iPad. So make sure you do it regularly! More details here

Can I save them in the cloud?

Yes, create a free account at accounts.crosscountryapp.com and upload your courses. You can download them again any time. This is useful if your phone is running out of space.

I just got a new iPhone/iPad. How do I transfer all my courses?

Save and restore them using iTunes. They will transfer over just as your contacts, notes etc do. Or you can upload them to the cloud as above.

Anything else?

Are any famous riders using it?

Yes, Ingrid Klimke and Stuart Tinney (Olympic Gold Medallists), Shane Rose and Clayton Fredericks (Olympic Silver Medallists). Bettina Hoy, Paul Tapner and Irish Olympic Team member Mark Kyle use CrossCountry app, Blenheim Palace International winner Francis Whittington and many more

How do I do a screenshot of my map?

Display the map as you want to capture it (e.g. zoomed in), then click and hold the top power button and the big round Home button at the bottom simultaneously. A picture of the screen will be stored in your Camera Roll for you to email, save etc. Watch video. On iPhone 4S press and hold the 'sleep' button; then press, once, the 'home' button.

My display keeps swivelling from portrait to landscape as I carry it in my hand on my course walk? Can I lock it in one position?

Yes, its very easy to lock and unlock portrait mode (you cannot lock in landscape but you can still take photos and videos in landscape). Swipe up from the bottom of your screen to open Control Center and tap on the Portrait Orientation Lock icon top right. To unlock just tap it again