Getting Started with Lite
Download courses and guided course walks created with CrossCountry app from our courses page or receive them by email from friends. Once a course is downloaded no internet or mobile reception is needed.
Tap the Download Courses button to connect to our library. Search on event name, level, country, course designer name, whatever you wish...
Download a course. Watch the progress circle in the top bar.
Click "Open in..."
Tap a jump on the map
Swipe through jumps
Swipe through photos and videos
Double tap to view full screen (rotate the screen to portrait/landscape as you wish before expanding to full screen)
Listen to voice memos (tap on the microphone icon and then swipe back to view photos while you listen)
Pan and zoom around the course
Click the location arrow bottom left to see where you are on course
Multiple dots under the photo indicate there are more photos, videos or voice memos
Upgrade to CrossCountry 2 to ride more accurately and calm startbox nerves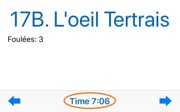 Record your course to browse before you ride
Add photos, videos, voice memos & striding
Share courses by email or your website
Display minute markers and time at each jump
Beeps at minute markers
Used by novice riders to Olympic Medalists.
Works anywhere in the world. Does not require mobile reception or internet.
"Last time I ran at Galway I was in 2nd place after dressage and stadium, then forgot a jump on the xc course and was eliminated. Not this time!" Jessa Hills won!! More Testimonials