CourseDesigner
Extra information as you record a course; high quality map images; fence lists, count up/down times and distances at the touch of a button.
Distance and Time statistics
As you record a course you see a running count of distance, optimum time and efforts (ie. an ABC fence is 3 efforts)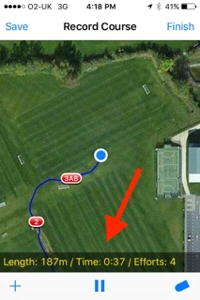 Reports
Create fence lists, distance and time reports from a finished course
High quality map images
Create posters for your VIP tent or stable manager's office and lists for official reports.
How to Buy CourseDesigner
CourseDesigner is an in-app purchase. You buy it once then you can run it on as many courses as you wish.
Files produced by CourseDesigner
two different size course map images
a text file of course details (length, date recorded etc)
optimum time calculation based on GPS measured distance
a list of fences with names, comments, distance and time from the start to each fence, distance from the previous fence and to the finish.
All this information is extracted automatically from the course you have recorded with CrossCountry app
Running CourseDesigner
Page is suitable for A4 or Letter size for printing paper maps. If you wish to print paper maps contact us about our new toolkit.
Poster creates a higher resolution image which you might print out for the stable manager's office or VIP tent.
Select Stats only if you only want the course and fence details, distances etc.
You will now see the different map squares flash as they are converted. If a map square is missing from the map image, re-run the course generation. Contact us if the problem persists
The map image and text files are inserted into an email for you to send to an iPhone, iPad, Mac or PC. On receiving the email simply click on the files to open them as you would any attachment.
The easiest way is to Email the files to your Mac, PC or iPad. If you generate the course files on an iPad you must email them to yourself to access them. It sounds strange but this is an iPad limitation.
No Internet? Saving to iTunes
If you do not have access to email and the internet, you can transfer it to your PC using Instashare or Airdrop. Or "Save as File" and transfer the files via iTunes by connecting your iPhone or iPad to a Mac or PC
Storing extra information
We have been asked by Technical Delegates about storing fence information such as dimensions and frangible pins. If you insert this as comments it will appear in the markers.csv file. Riders, coaches and spectators are also interested in this information so it has a dual value when you publish the courses
Productivity Tips
You can email a course you have recorded on your iPhone to your iPad, your course builder or other officials. It is easier to add in fence names and comments with the iPad keyboard.
If you make changes e.g. to a fence name, we strongly advise that you change this in your original CrossCountry app course and regenerate the course design files. Otherwise you will have confusing multiple versions and you may distribute the wrong version. It also means that your permanent record of the course is correct.