New Toolkit
Design, document, manage and share your courses
Launching soon for course designers and organisers Contact us to register your interest
The toolkit runs on any modern browser on any smartphone, tablet, PC or MacBook. It will be available by subscription.
Edit a course track including moving the start and finish
Add, move and delete jumps
Edit jump names, photos and comments
Renumber jumps automatically
Share a course privately with your team
Make it public and edit the library description
Create automatic pdf maps for printing
Import a track via KML e.g from Daft Logic
Extra information as you record a course; high quality map images; fence lists, count up/down times and distances at the touch of a button.
Distance and Time statistics
As you record a course you see a running count of distance, optimum time and efforts (ie. an ABC fence is 3 efforts)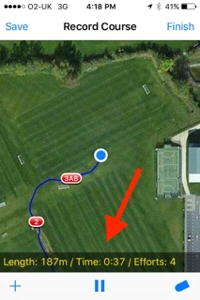 Reports
Create fence lists, distance and time reports from a finished course