Take a free Adelaide virtual course walk 2019
5* has added audio from course designer Mike Etherington-Smith and videos with Olympic rider Sam Griffiths.
4* and 3* maps and superb photos
Click below for the interactive course maps. Tap on any jump on the map to browse photos, videos and listen to the expert audio.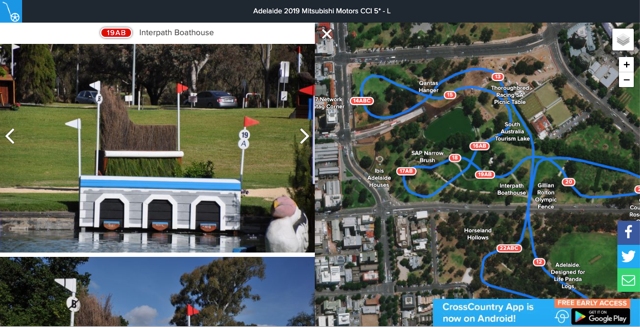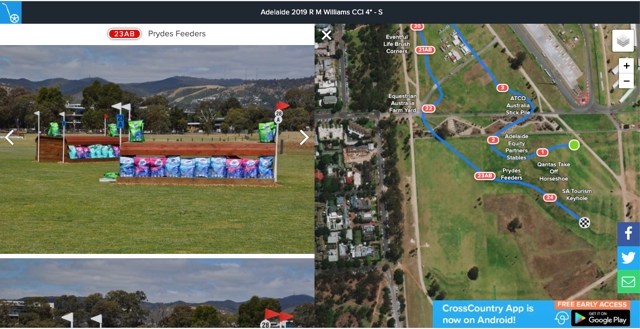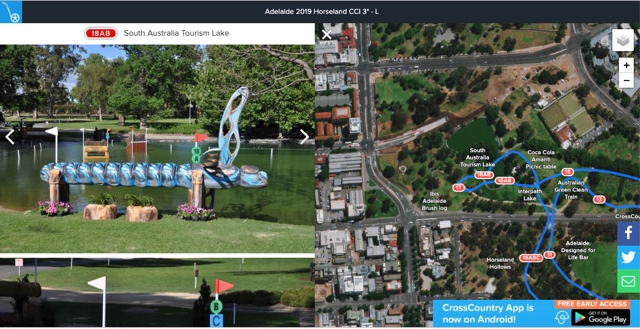 For Premium Features download CrossCountry App
Automatic Minute Markers
Record your own courses
Does not require Internet
See your position on course
Super fast browsing
1. Download CrossCountry or CrossCountry Lite (Free) from the App Store to your iPhone or iPad
2. Inside the app Click Download Courses, click on the course or type Adelaide in the search box
3. The course will download and open automatically
The new Android app is currently Free on the Early Access Play Store
1. Download the app and sign up
2. View course online: Open the app and tap the thumbnail
3. Download course: Tap the download icon then go to My Courses>Downloads to open the course
4. Enjoy!
Tap a jump on the map
Swipe through jumps
Swipe through photos and videos
Listen to voice memos (tap on the microphone icon and then go back to photos while you listen)
Educational and entertaining
which fences could cause problems and why?
what is the best line?
where can critical seconds be gained and lost?
Listen on course or at home
At each jump use it as you might listen to a guided audio tour in an art gallery.
"There's been a refusal at Fence 19" Swipe to the jump and find out why it might have happened.
Download the course the night before to plan which jumps to watch at.
Pinpoint where you are on course with the "blue sphere" (CrossCountry and CrossCountry Lite)
Preview the course before you listen to the fun live commentary on Sit Tight Radio or watch FEI TV
Once the course is downloaded, the app does not use the internet so there are no delays as you click on the jumps or watch videos.