Welcome to the CrossCountry Toolkit
Design, edit, collaborate, print, publish
Runs on any modern browser on any smartphone, tablet, PC or MacBook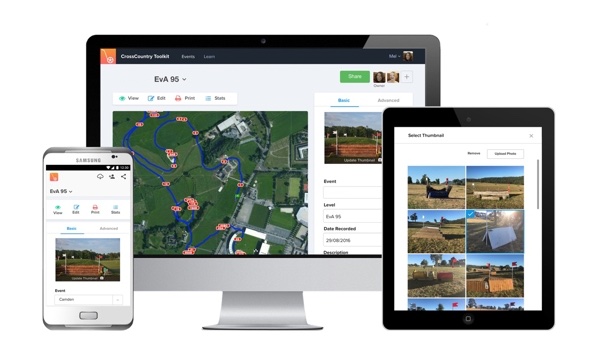 Edit a course track including moving the start and finish
Add, move and delete jumps
Edit fence names, photos and comments
Renumber fences automatically
Share courses privately with your team
Automatic time and distance statistics
Make it public and edit the library description
Create automatic pdf maps for printing
Import a GoogleEarth track via KML e.g from Daft Logic
Please send your feedback to jose.diacono@crosscountryapp.com or call +61 418 224 081 Skype.id. jose.diacono
Sign up for a free trial today.
The Toolkit will be available by subscription.
Video Tutorials
Upload and publish a course
Personalise my account
My Events
Edit Course Details and Thumbnail
Edit track and fence positions
Edit fence properties, photos etc
Printing
Sharing & Collaborating
Statistics and Exporting
Duplicate an existing course
Importing KML from Daft Logic
Daftlogic is a free google earth tool. Go to https://www.daftlogic.com/ and create a login to start designing your course
Download a course from the toolkit (after editing)
Thank you to Badminton Horse Trials for the Mitsubishi Motors Cup course and to Aidan McGinly for the Munstead PC course used in these videos.
Keep the Toolkit handy
Save the website address http://crosscountryapp.com/toolkit to the home screen of your smartphone or tablet (like bookmarking on your PC).
Here's how to do it on an android phone
Below on an iPhone or iPad